SOME OF THE CAST OF CHARACTERS FROM ROB'S MEMOIR "Oh, Bob!  I Thought It Was Curtains"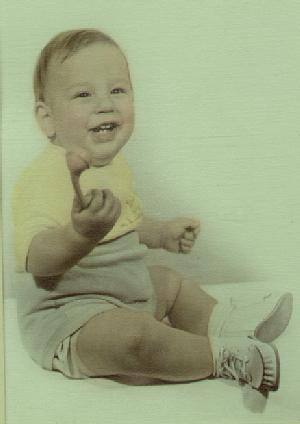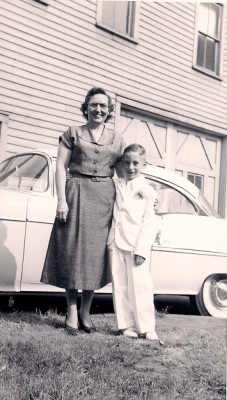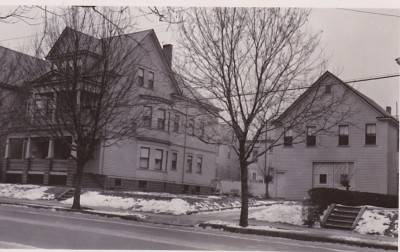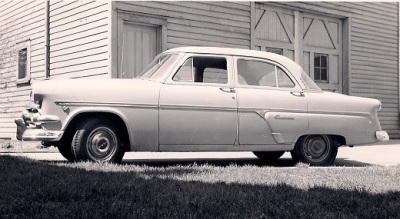 The light blue, 1954 Ford Customline that my father accidently ripped the passenger side rear door off of.  He had the resulting defect repaired by my sisters' boyfriend's uncle, who evidently wasn't the best auto body  professional in Paterson!
The house on Madison Avenue in Paterson, NJ, where I lived until I was ten years old.  My paternal grandparents as well as my then unmarried  Aunt Marge lived in the upstairs flat.
Me at approximately six months of age
Mom and I in front of our barn/garage in May of 1956, on the occasion of my First Holy Communion, which took place at St. Joseph's Catholic Church in Paterson, New Jersey.  The car in the photo is my Aunt Marge's 1955 Chevy Belaire hardtop convertible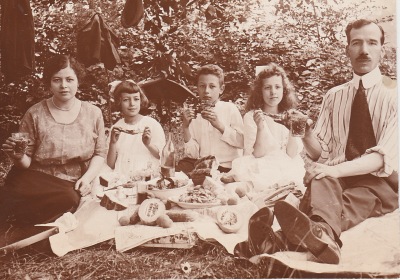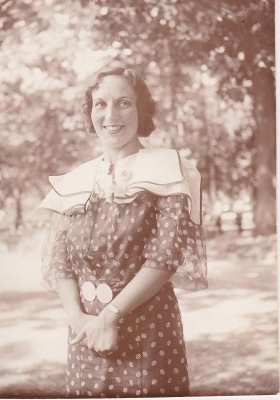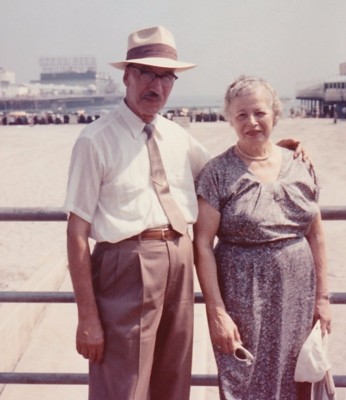 The Russo family on a picnic in the 1920s.  From left to right: Rosaria, Jacqueline, Ignatius (Nat), Margaret, and Alfonso.  It intrigues me that they were so formally dressed, but I suppose that was the norm at the time.  If you look closely, you'll see that the bottom of my grandfather's shoes are spotless.  One wonders how they remained that way in the great outdoors!
My mother, Helen Nugent, in 1935, when she was dating my father.  Helen thought herself unattractive and was devastated when she overheard her future sisters-in-law describing her as "plain".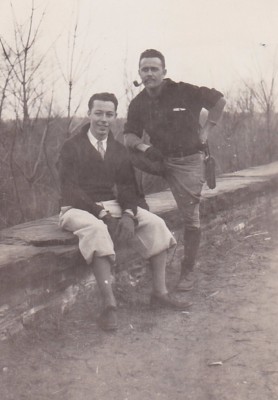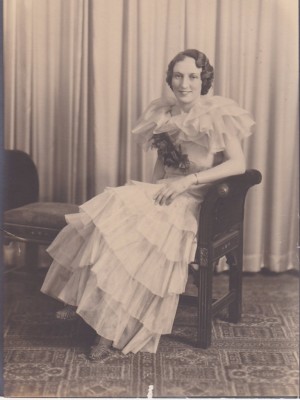 My paternal grandparents, Alfonso and Rosaria Russo, both of whom were immigrants from Sciacca, Sicily.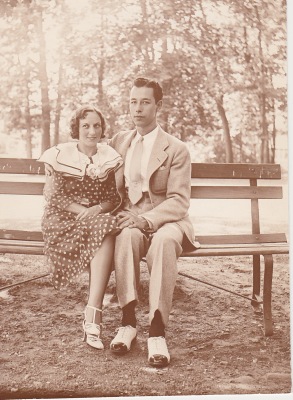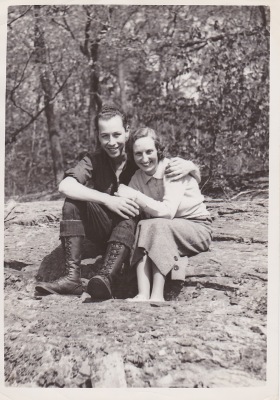 My mother, Helen Nugent, was almost pathologically insecure about her looks.  This particular photo, one of her mother's favorites, was kept prominently on display in the Nugent household.  Sadly, this particular image (taken when she was a bridesmaid at a friend's wedding) distressed Helen so much that, when she heard company was expected, she'd run and hide the photo -- much to her mother's chagrin.
My parents, circa 1935, when they were dating.  In the future, a therapist I was seeing would say about their marriage, "It's as if your mother and father came together and died!" 
My father and my Uncle Henry (Aunt Jackie's husband) circa 1935.  Again, it amuses me how formally they dressed for outdoor activities!
Another photo of my father and mother when they were dating.  Before they married, Nat was an avid hiker (here he's wearing his hiking boots), and Helen was an accomplished golfer.  After they wed, both abandoned these activities.  I never learned why.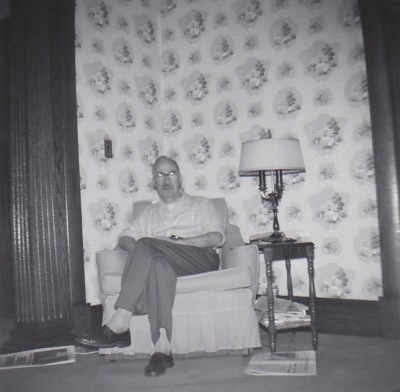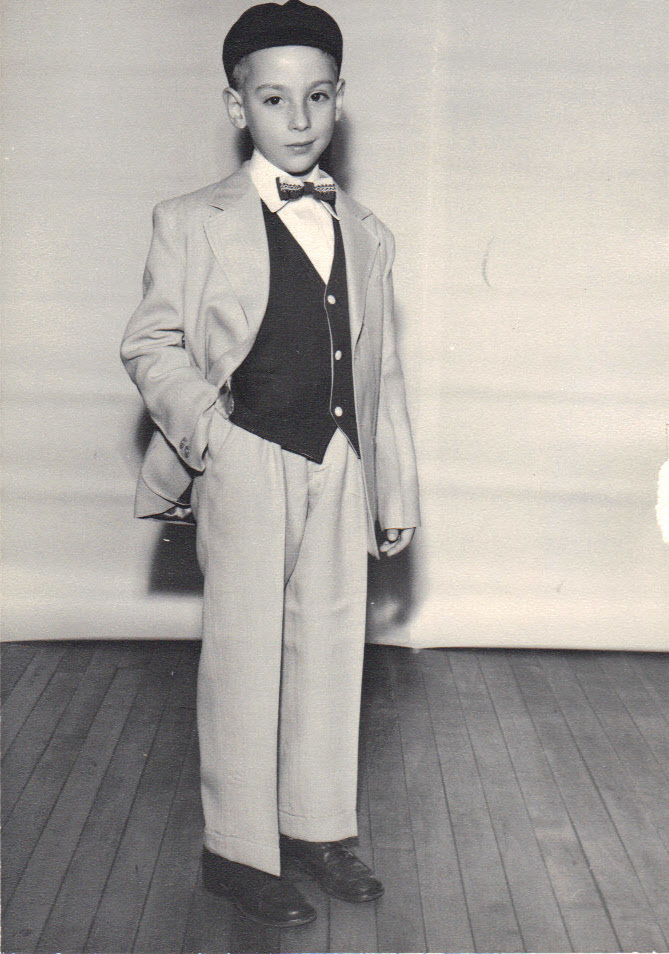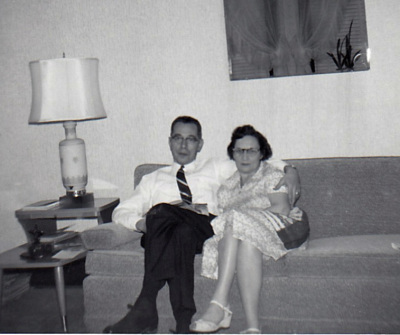 My paternal grandfather, Alfonso Russo.  Because of reputed interference by my two aunts, I was never to know if he would have accepted me if he'd known my truth.
My parents huddled together on the couch -- the way they often appeared when they were about to shame me in some manner.

While a 3rd or 4th grade student at School #24 in Paterson, NJ, I was asked to model this spiffy suit at a PTA fashion show.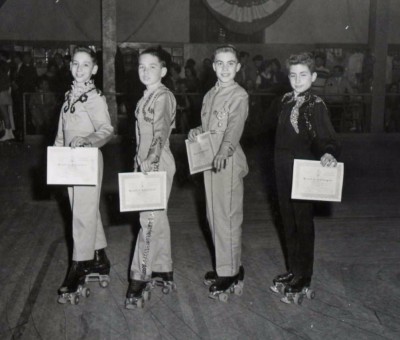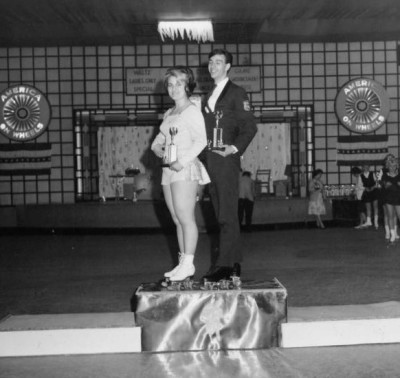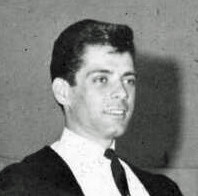 My being a competitive roller skater angered my father for two reasons: he saw the skating world as being "full of homos", and he felt my skating was taking his wife away from home too frequently.  On at least one occasion, he informed me that my skating would be the cause of my parents divorcing
.
 That's me on the far left.
Aside from Eddie McFarland, my other major crush in the competitive roller skating world was Harry Post, pictured here when he was about nineteen years old.  Harry was a hero to me in that he dared to be who he really was at a time when doing so had severe consequences.  My mother once told me that if she ever had a son like Harry Post, she'd kill him.  Well, she did have a son just like that!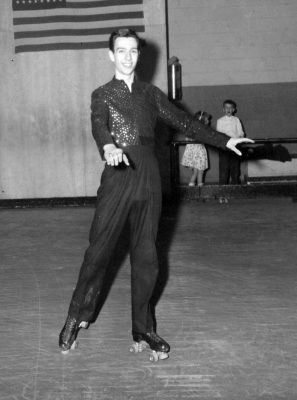 One of my first adolescent crushes was skater, Eddie McFarland, pictured here circa 1964.  Sadly, my feelings for him were tainted by my religious upbringing.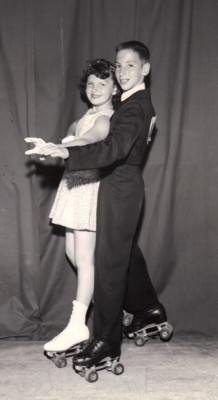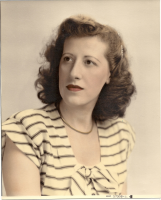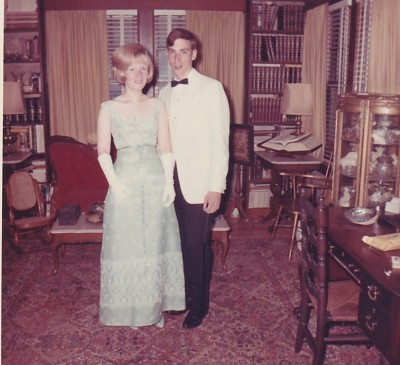 This is Eddie McFarland around the time (1962) when I promised "Mother Mary" that I'd refrain from "dirty thoughts and actions".  You can read about this in the book's chapter "The Virgin Almost Got Me Killed".
My father's sister, my Aunt Marge, as a young woman.  It was she whom my mother overheard saying my mom wasn't pretty . . . just "plain".  Hmmm . . . 
My skating partner, Ruth Brinkerhoff, and I at a competition in 1960.
Maryann and I the evening of our Hasbrouck Heights High School senior prom.  Soon after the prom, we broke up, even though we loved each other.  I was in the process of coming to terms with my sexuality, and I didn't want Maryann to be dragged down by my struggle.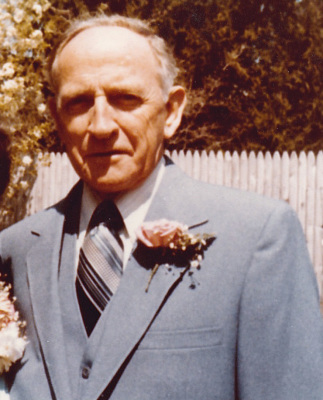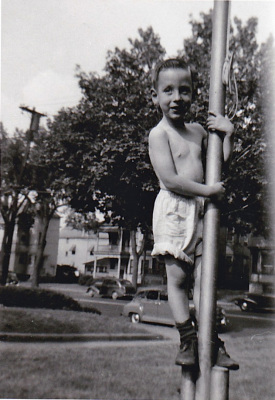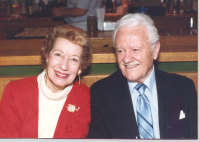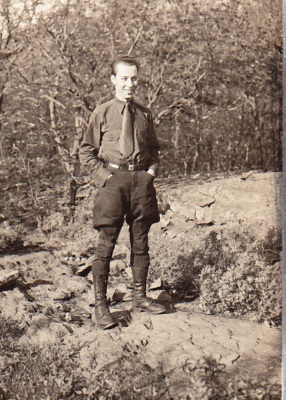 Ray Jolliffe, my godfather and my father's only friend.  It was Ray's wife, Emily, who took seriously Ray's godfather role, and she made sure she remembered every one of my birthdays during my childhood by bringing me a homemade cake and homemade cookies.

This is me in 1952, at age four. The photo was taken on our front lawn at 828 Madison Avenue in Paterson, NJ.  My father and paternal grandfather made and erected the flagpole I'm standing on.

My Aunt Jackie and Uncle Henry at my 40th birthday party on March 13, 1988. 
My father in 1935... the year before he married my mother and gave up hiking, the one activity he really loved.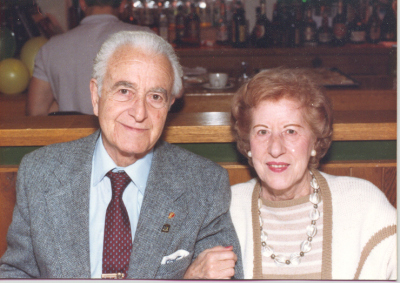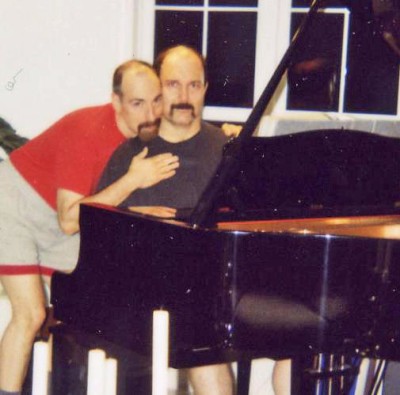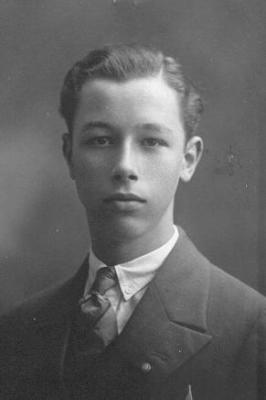 My Uncle Louis and Aunt Marge at my 40th birthday party on March 13, 1988
.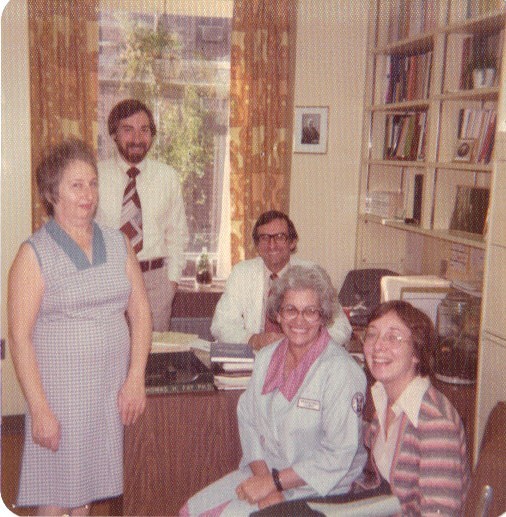 My father as a young man, circa 1929.  He doesn't look particularly happy, does he?
I sent this photo to my Aunt Jackie because I wanted her to see the new piano Daryl and I had purchased.  However, all my aunt seemed to notice was that I had lost a good deal of hair since she'd last seen me.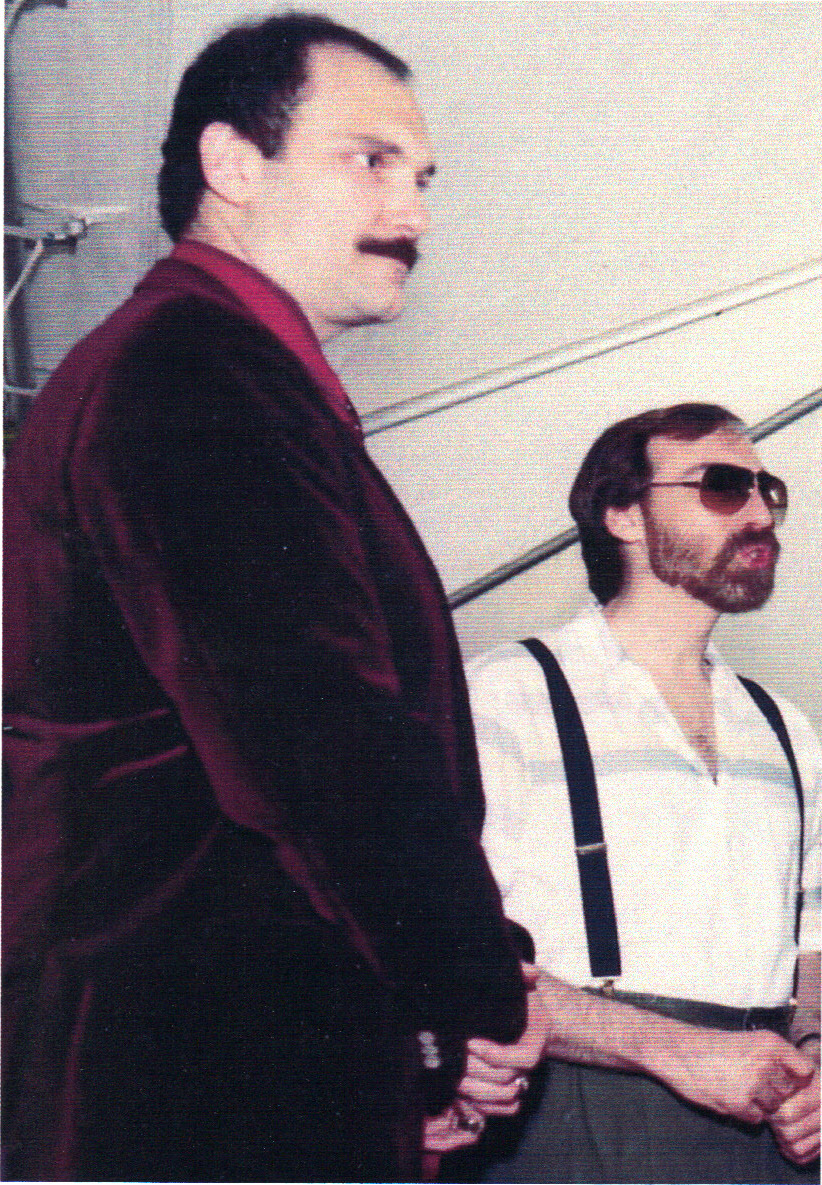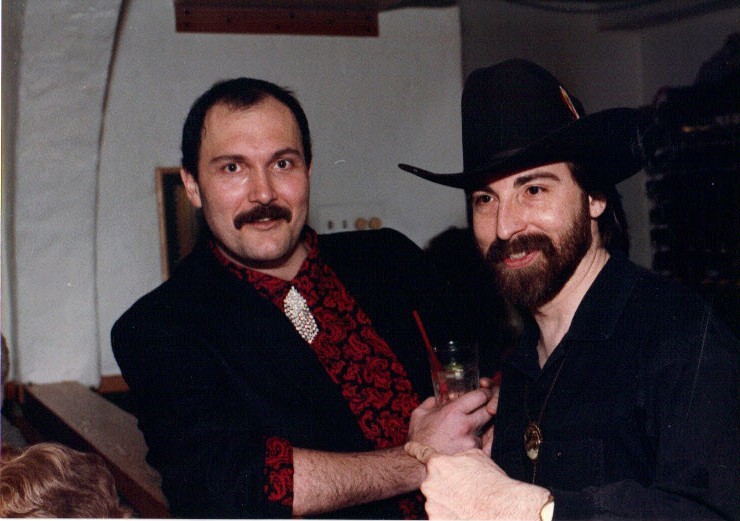 This photo was taken during my first year working as an audiologist at New York's Columbia-Presbyterian Medical Center.  That's me standing in front of the window.  Others in the photo, left to right: Sylvia Morgan, pediatric audiologist; Thomas H. Fay, Ph.D., Director of Speech & Hearing;  Elsie Reyes,  clinic receptionist; Mary Kuller, staff audiologist. The year was 1974.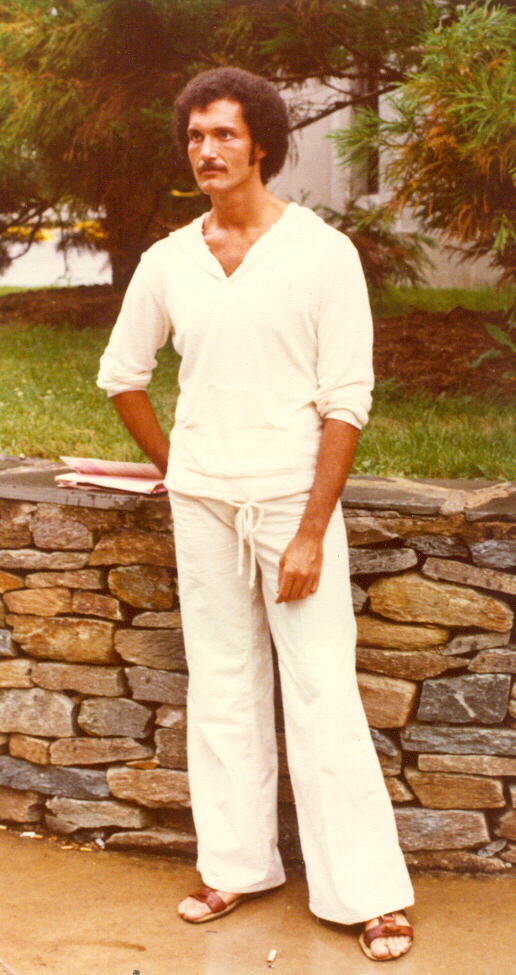 Daryl and I at a Manhattan celebration honoring the recent wedding of jazz pianist David Lahm and singer Judy Kreston
Daryl and I at my 40th birthday bash, which he threw for me at the now defunct Deno's Restaurant on the east side of Manhattan.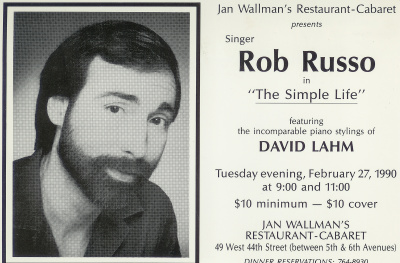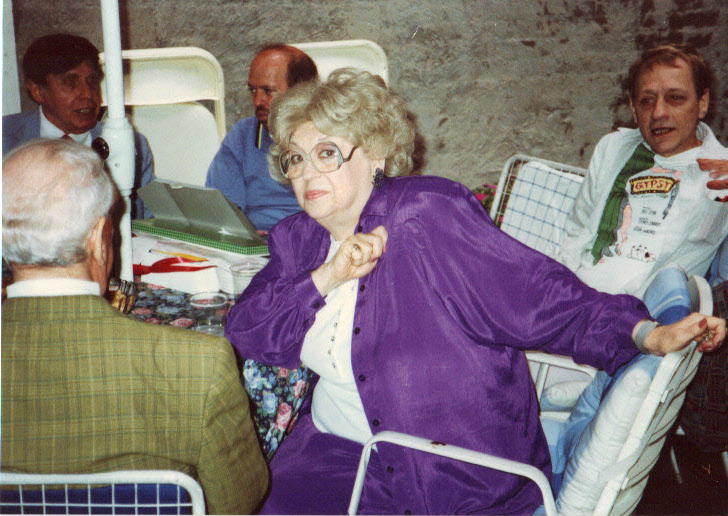 I was a nervous wreck when I had to audition for Jan Wallman.  She was a great lady, and I so wanted to perform at her cabaret.  Here's Jan at the wedding celebration for David and Judy Lahm
In the late 80's and into the early 90's I got the performing bug and managed to do some vanity gigs at some of New York's hot cabarets.
Daryl in the 70's, a few years before we met on January 1, 1984, at a benefit at New York's Limelight nightclub.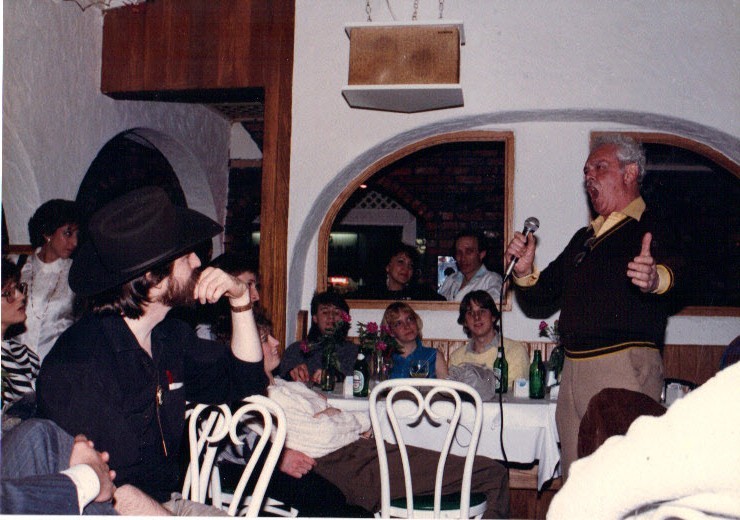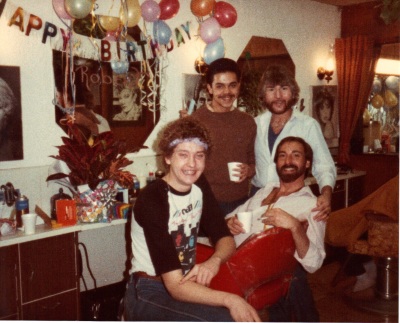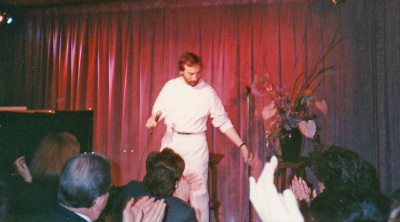 That's me in the hat intently listening to a performance of "If Ever I Would Leave You" by renowned vocal coach David Sorin Collyer.  The occasion was my 40th birthday party at Deno's Restaurant on the east side of Manhattan.
My very first cabaret performance took place at Panache (at the Magic Pan) in Manhattan.
 Willie Beltran's Hair Salon in Passaic, NJ.  Willie is standing on the right, and that's me slouched in the chair.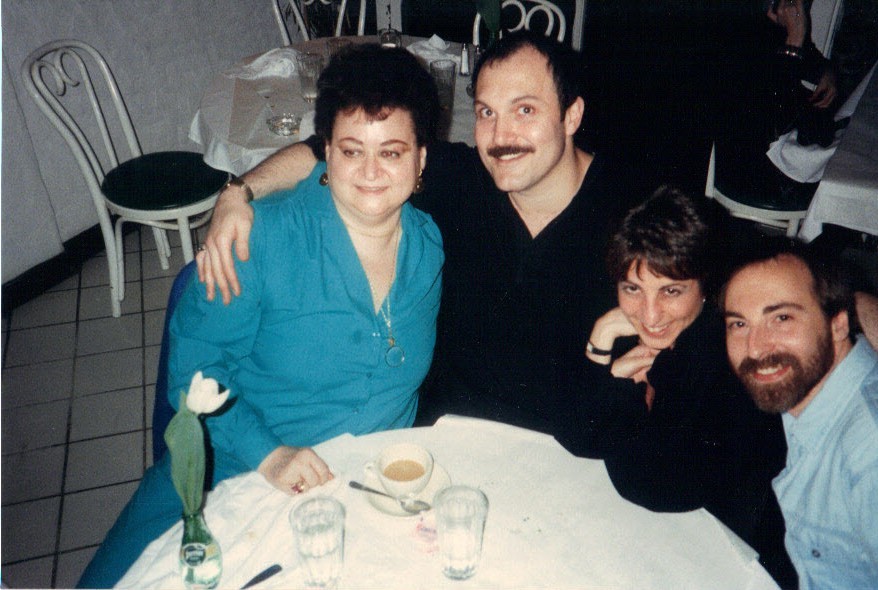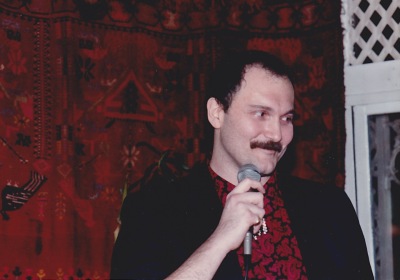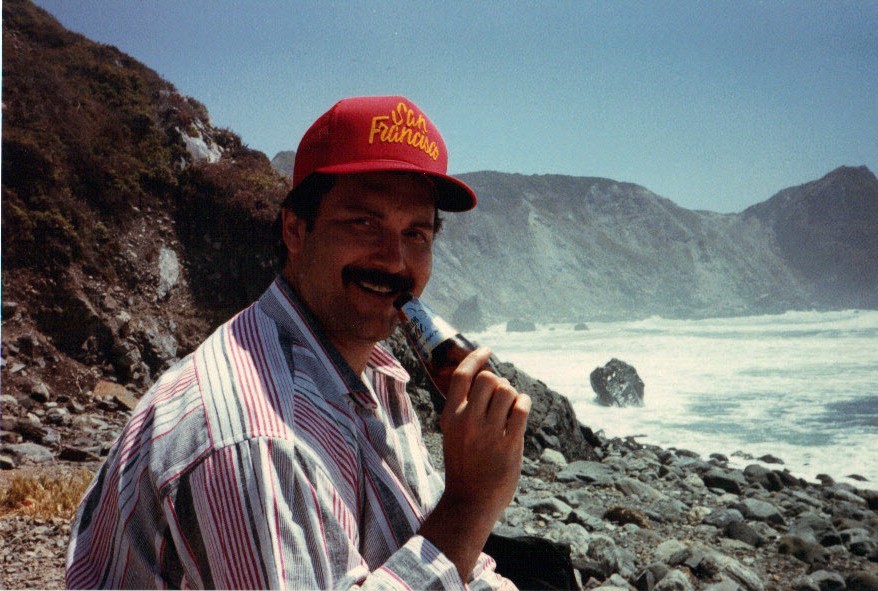 Above and below:  Daryl and I kicking back on a beach along the beautiful southern California coast.  The year was 1987.
Dinner at Deno's Restaurant with our dear friends Sandra Suser (since deceased) and Lucille "Francesca" Maese.  This photo was taken sometime in 1988, and not too long thereafter, Sandra became disabled due to her untreated Type II diabetes and other avoidable maladies.  Sadly, our Sandra had a very strong death wish, and she  just wouldn't be deterred from her destructive path.
D
aryl serenading me and the guests at my 40th birthday bash which he threw for me on March 13, 1988.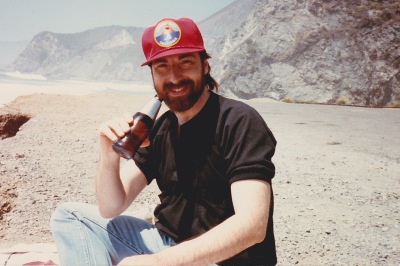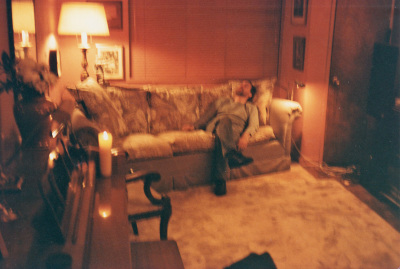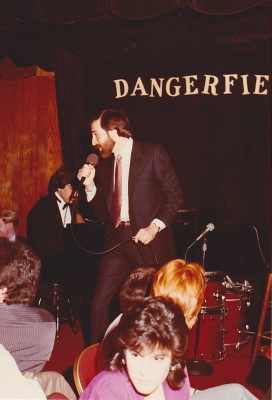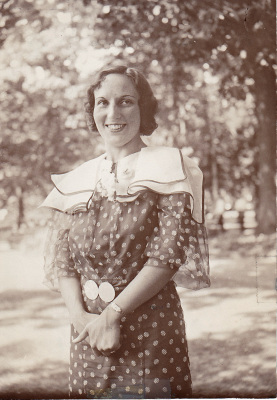 My tiny studio apartment at 404 East 75th Street in Manhattan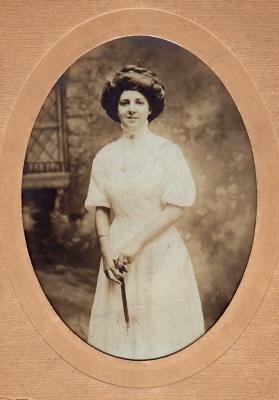 My first public performance as a singer was at Dangerfield's in Manhattan on January 29, 1985.  I was taking a course called "The Singing Experience", and the final night of class, we students each sang one song in front of an invited audience.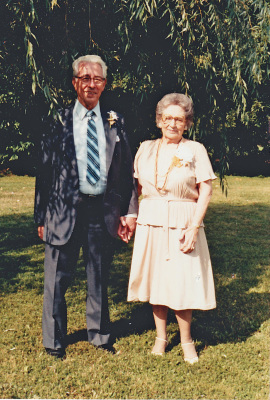 My mother, Helen Nugent Russo.  Helen was exceedingly insecure about her looks and abilities as her parents consistently compared her unfavorably to her same-aged cousin, Ruth Berdan.  Of course, like any son, I'm prejudiced, but I don't think my mom had any reason to think herself unattractive.

My maternal grandmother, Edith Lindquist Nugent, who coverted to Catholicism after her daughter, Helen, "miraculously" recovered from a severe bout of pneumonia following administration of "Last Rites" by a Catholic priest.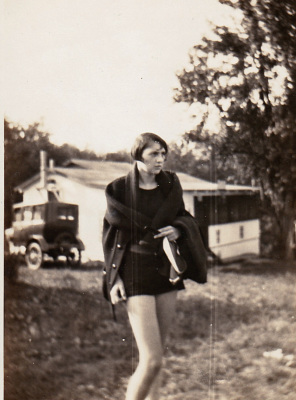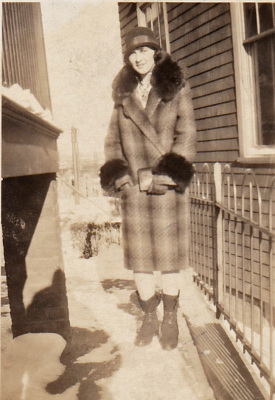 My parents, Nat and Helen Russo, on their 50th wedding anniversary.  By this time in their lives, they'd come to not only accept my authentic self, but to delight in having Daryl as their "adopted son". The truth . . . Mom's, Dad's, and mine . . . had truly set us free to love one another as had never been possible before.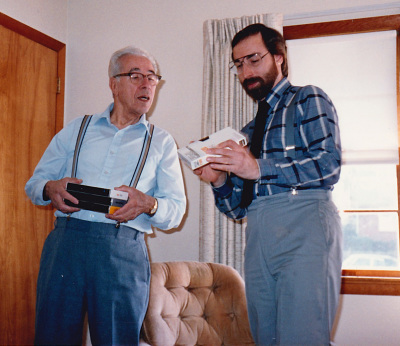 Two photographs of Ruth Berdan,  the cousin to whom my mother was cruelly and unfavorably compared by her parents, John and Edith Nugent.  As a result, my mother suffered from a lifelong inferiority complex.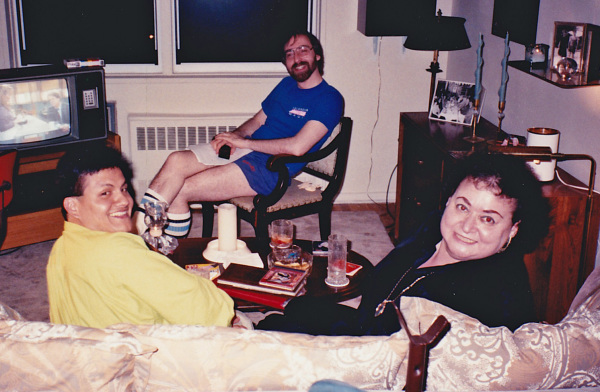 My father and I exchanging VHS tapes during an episode I describe in "Oh, Bob!"  I'll not discuss the nature of the tapes here in a very public forum, but those of you who've read the book know what's happening here!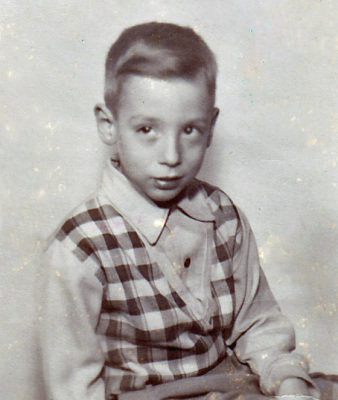 Our late friend, Sandra Suser (on the right); her then boyfriend, Milton, on the left; and me sitting in the chair.  Sandra, if you recall from the book, developed Type II diabetes and almost totally neglected the management of her disease.  Over the course of ten years, her unmanaged illness caused her to become bedridden, then lose several toes, and eventually caused her miserable death.  Our poor Sandra, if seems, never recovered from the trauma of her mother's trying to abort her unborn child with a wire coat hanger during the unwanted pregnancy.  To add insult to injury, when Sandra was nevertheless born, her father walked out on the family and was never heard from again!

The author at age five, when he sported dark circles under his eyes from a combination of sleep deprivation and untreated multiple allergies.  These were the days when he listened to the radio (stashed under his bed covers) until the wee hours of the morning.  It's also around this time that his pet cat, Tippy, almost hung himself by jumping off the front porch while tethered to one of the support spindles!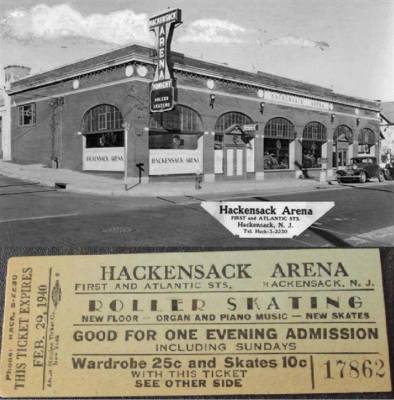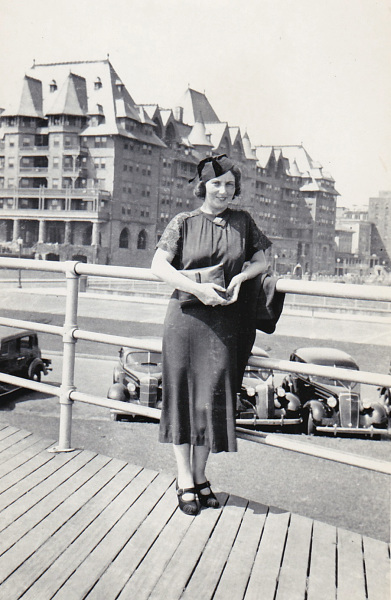 Hackensack Roller Skating Arena in Hackensack, New Jersey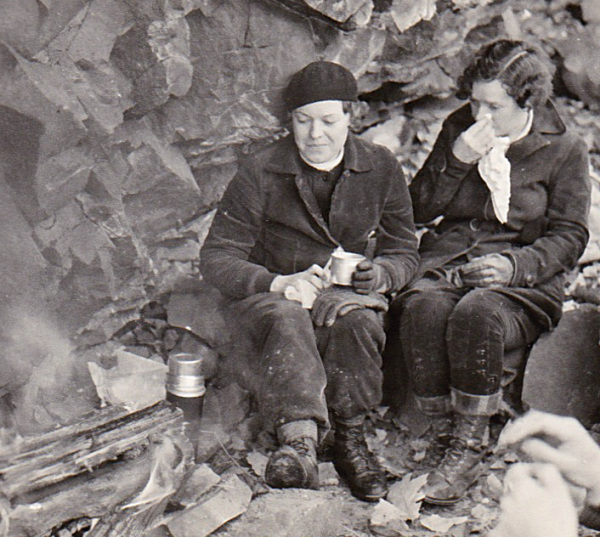 My mother, Helen Nugent Russo, on her ill-fated honeymoon in Atlantic City, New Jersey, in September of 1936.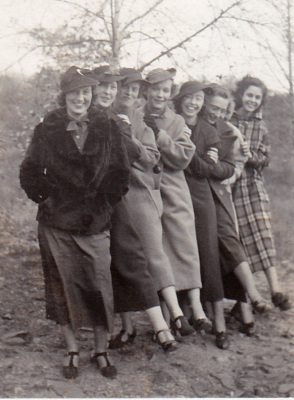 My godfather's wife, Emily Jolliffe (on the left), who was so kind to me during my childhood . . . even though she never once physically touched me the entire time I knew her!  If born and raised in another era, both Emily and her husband, Ray, might have led quite different, more authentic, lives.  That said, I do believe they loved each other and, at least on some levels, had a satisfying relationship.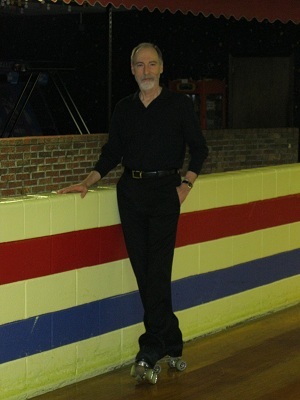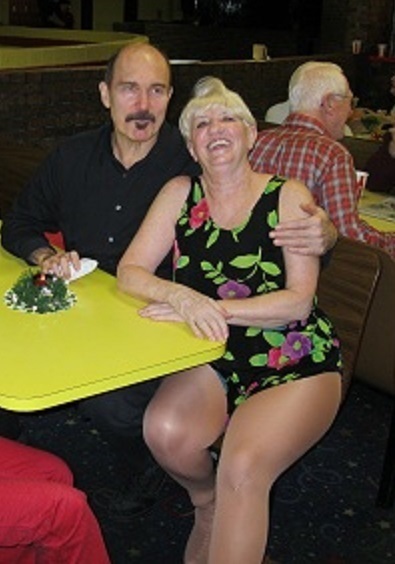 My mother, Helen Nugent Russo, at the head of a conga line of friends in October of 1936.  During her entire life, my mother thought herself ugly, a belief which caused her no end of misery.  In reality, she was quite attractive and had an engaging personality and a great sense of humor.  She also had several largely untapped gifts.  For example, she was an excellent writer, but no one but I (and a beau to whom she wrote in her youth) ever got to read her beautiful compositions.

When I retired in 2010, my plan was to pick up my competitive roller skating where it had been interrupted some thirty years previously. Here I am at Christiana Skating Center in 2011.
ABOVE: Daryl with our dear friend Jeannie Armstrong at Christiana Skating Center in Newark, Delaware, in 2011.  Jeannie and I talked on the phone daily and sometimes several times a day, and I was devastated when she was diagnosed in 2012 with stage IV melanoma and passed away only two and a half years later.  Her death had a profound effect on me.  I've never viewed life the same since her passing.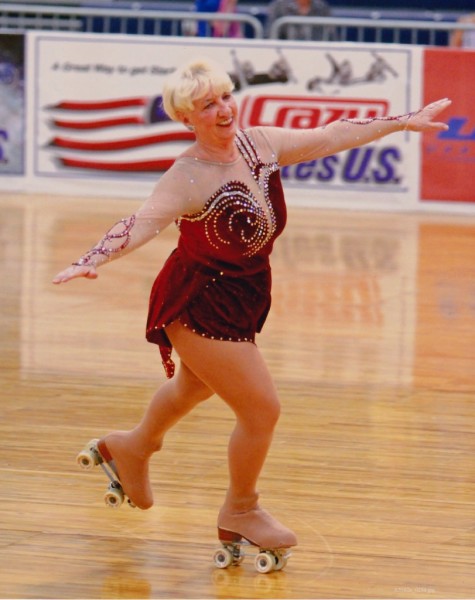 LEFT:  Jean Marie Armstrong skating in her last "Nationals" only a year before she died.  I keep a framed eight by ten copy of this photo on my bedroom dresser so that I'm reminded of how precious our friendship was.  I miss her, her smile, her energy , her loving nature and the guiless twinkle in her blue eyes.